Thx to Amanda for this graphic!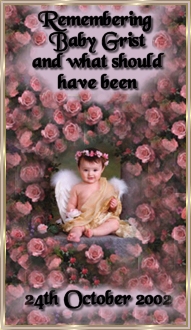 "I feel life is a blessing no matter how long or short we are allowed to live it here on earth. But the true blessing is being able to go home...our real home...back with our Heavenly Father. There are no tears, no pain, nothing but happiness and eternal Joy. I have to remember that while my little one is not here with me now...she will always be happy and innocent and pure.....none of us here on earth can say that..we have all sinned, we are all sinners. I have a perfect little angel waiting for me in Heaven. I miss her terribly so and it's hard thinking that by now she should have been here in my arms...but she is in Jesus's arms instead and those arms are far more precious than mine."
"Her EDD wasn't as hard to handle as I thought but I actually feel more sad today in many ways than I did yesterday. I bought the candles to burn and got her special angel teddy's all ready to help me honor her memory on her EDD but now that day is over and that's it...she's not here and it's like...what now?? I feel so strange that her EDD has passed. It seemed much easier to deal with when it was during the time I still would have been pregnant. But I know this is just another step along the road of pregnancy loss and I've always been able to stay strong through christ...so I think I'm doing very well! : )
And I have cupcake...I have to remember cupcake would not be here now if my angel had not flown home to heaven so soon."
Baby Grist and Hope...sharing their EDD in Heaven!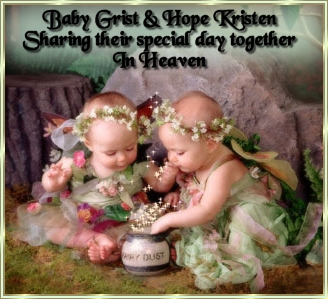 I and a dear friend Shay have little ones waiting in Heaven for us that were both due Oct 24, 2002. My Angel and Shay's Hope are together in Heaven sharing this day and sending down all their love to their mommies.
Shay...I am so sorry we have this day to share with empty arms instead of little ones nestled in them. We never would have met though if we did not share this loss.....our friendship is a gift from God in and of itself. My heart, love and prayers go out to you....
Love,
Melanie