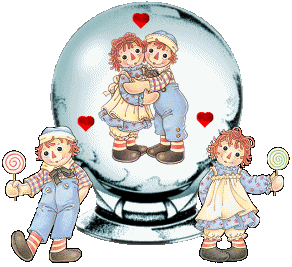 I had an exhausting afternoon! ; ) I went at 3:30 with my mom to help her go pick up her car at the mechanics. I was feeling pretty good this afternoon when I took her and for the first time was happy to get out and about. She needed to go get a tire put on as well so she decided we'd go to walmart and get it done there and that way we could look around while we waited.
Well we went through the toys with Zebedia and were still waiting for the car so mom says what the heck let's just go see if they have anything good to look at in the baby section. We were not really impressed with much but it gave us something to do and it was the first time we've been anywhere together to look at baby stuff. We get done and decide to go check and see if the car is ready. And then, there sitting out away from the other baby stuff, is a Raggedy Ann and Andy crib and baby set! I love Raggedy Ann and Andy (always have since I was a little girl). I couldn't believe they had one I had been looking at there!
Well we couldn't find a price but online they run anywhere from around 95 to 199 dollars for a 3 piece crib set. So we got the 4, yes 4, piece crib set (we co-sleep but I still love doing up the crib and all hehe) and we also got the musical mobile, a layette set and a fleece blanket all in the Raggedy Ann and Andy theme. They also had a little lamp and a diaper stacker but we THOUGHT that would add probably another 80 dollars or more to what we already had so we didn't get those.
I about fainted when I found out how much all of that we got came too....now mind you this exact set is selling else where just for a 3 piece crib set ranging from 95 to 199 dollars.....our grand total was 86 dollars!!!!! I could not believe that!!! What a steal! The crib set, mobile, layette and fleece blanket all came to just 86 dollars! It's the exact same set and brand as the others but apparently just oodles cheaper!
And I can't believe I already found something I just love! With Zebbie it took me FOREVER to pick something out....we ended up doing a mother goose theme which was absolutely adorable for Zeb...it was in pastel but bright pastel colors. The main color was a minty sky blue green. Very cute! This set for Cupcake is in more primary colors....red, blue, ecru...colors like that. When we were checking out the ladies wouldn't quit oohing over it and talking about how much they loved it and all *grins* ; )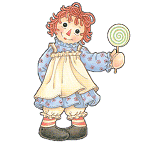 Zebbie also made out good today....he got new shoes and a small wooden toybox filled with wooden toys (abc puzzle, building blocks, alphabet blocks, pounding peg thingy and items like that), he got to eat at a fast food place and play with other kiddies, he got tons of snacks and candy and he got lots of attention from strangers that he always loves LOL
At the play place we ate at for instance one little kid fell down and Zebbie ran over and hugged him and rubbed the kids head where he bumped it. That's just how Zeb is. Well that kids mom was just like....oh my goodness your daughter (yes she called Zeb a girl LOL) is the sweetest most gentle child I've ever seen. Zebbie had been like that the whole time to the other kids too which I guess I don't think much about anymore because that's just how he normally is. But it was nice to hear another parent say that ; )
Anyway, then my mom had to do some deliveries for the family florist and we rode with her to do them and we stopped in to see my uncle at his work and he gave Zeb 20 bucks to get something with so Zebbie had a full day of it! LOL
By the time we got home it was 9:30 and I am soooo tired and have a most horrid head ache..I think it's a migraine because it's making me feel even more like I'm going to vomit than usual : (
I am so happy I had an afternoon and evening to half way enjoy myself though before getting so sick again. I feel just awful now. The nausea is just building up and this horrid head ache isn't helping so it's going to be a lovely night I can tell.
Ok just wanted to share about the great deal on the baby stuff we got! I'm sooo excited *grins* ; )
Love, Melanie
(scroll down to see pics of the nursery set)